For the latest updates on COVID-19 (coronavirus), please click here
Shrink Sleeve Labeling:
Applicators, Tunnels & Accessories
Offering full, partial & tamper applicators along with hot air and steam shrink tunnels.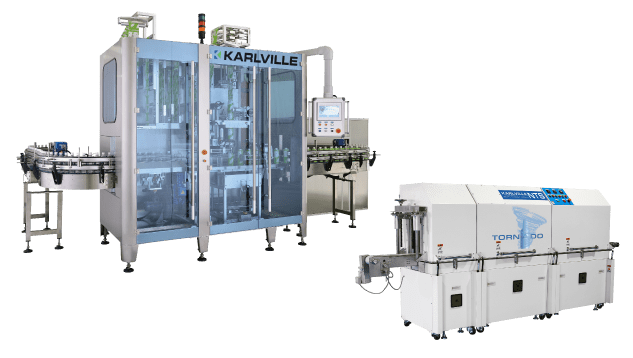 Shrink Sleeve Labeling Experts
Karlville has heavily invested in building a strong global service, engineering and support for its shrink sleeve application business. Our experienced team comes from the industry. With an in-house help desk, we support our customers on and off the field.
Discover Our Line
Automatic Application

Tamper Evident

Tunnels

The Karlville Automatic shrink sleeve Applicator SLEEVEPRO line integrates a range of models to apply shrink sleeves on most container shapes, materials (glass, plastic, metal), conditions (filled or empty) at speeds that range from 50 to 800 bpm.
Karlville's Tamper evident line is the most reliable application in the market. Designed with Positive Control application technology using servo driven pick and place mandrel system allowing to keep good efficiencies and high speeds with short length shrink sleeve tamper evident bands The tamper evident line can be used for integrated system on existing label application or stand-alone system for inline or offline tamper evident application.
Sustainability
We are committed to deep, ongoing sustainability, social and ecological responsibility.