Hybrid Spout Inserting SI-100 Flex
Hybrid machine for inserting and welding of commercial standard spouts in top or corner position into premade pouches. Welding technologies can be selected between heat or ultrasonic welding technology or both.
This machine is a perfect platform for those companies looking for continuing or starting using thermal technology for spout inserting on traditional laminates and being ready to offer a solution when it is needed to weld spouts on 100% recyclable materials.
Depending on your products and materials, you can choose the most suitable welding process with the same machine. This is possible after the development of a machine design that has been thought through to the smallest details. Our hybrid machine ensures the shortest possible changeover time from one welding process to another ensuring maximum flexibility.
For more information, please scroll down to download the full brochure or contact us to request additional information.
Machine Specification
Speed

Up to 100 cycles/min depending on lamination structure and chosen technology

Pouch Height min.

100m/ max.270 mm

Pouch Width min.

80mm/max. 160 mm

Main Drive

AC Servo Motor

Film Material

PET/PE, PET/PP, BOPP/PE, PET/Al/PE, PET/Al/PP – either thermal or ultrasonic sealing
100% PE or 100% PP – ultrasonic sealing only

Thickness

100-230 μm (other thicknesses to be discussed and subject to technical assessment)

Spouts Specs

Thermal technology - from 8,5 mm to 17,5 mm
Ultrasonic technology - from 8.5mm to 10.5mm.
Please contact us to discuss your spout specs
Information
Advantages of Hybrid Technology
Spout inserting Process
Machine data and consumables
Machine compliance
Options
Filler Option
Advantages of Hybrid Technology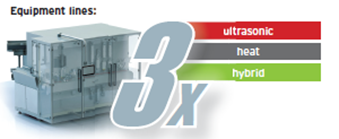 Ability to weld multi- and monomaterial structures in one machine by just changing welding tooling.
High speed welding process in both cases

Up to 100cycles with ultrasonic sealing technology
Up to 90 cycles for thermal sealing technology

High quality standards ensured by high repeatability and best welding seaming process.
Reliable production process by constant energy input when using ultrasonic technology with up to 80% lower setup and changing times. No risk of burns during cleaning work as the tool is always cold.
Optimal energy efficiency
Spout inserting Process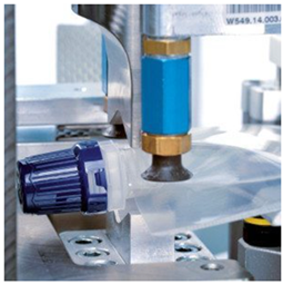 Pouch is pre-open and conditioned with hot air. Vacuum will then open top of the pouch for moving double-gripping unit to insert the spout before thermally/ultrasonically sealing it.
In the case of corner spout inserting the top seaming will be done with ultrasonic technology.
Machine data and consumables
Machine dimensions: (LxWxH) 3100mmx3600mmx2350mm
Machine weight 5,000kg
Noise <85dB (A)
Main drive: AC servo motor
Electrical data: 3 x 400 VAC/N/PE, 50/60 Hz
Air connection: 6 bar, ± 10 %, ¾" connection, consumption approx. 1.700 NL/min. (basic machine without options)
Compressed air quality: technical oil- and condensation-free. Max. particle size for impurity 3 μ
Machine compliance
Type C Norm 415
CE marked
Noise <85dB (A)
Options
Camera monitoring – detects presence of the spout, spout inserting depth and center position with tolerance of +/- 0.2mm.
Spouted pouches rail magazine
Automatic rail changer with capacity of 15 rails.
Machine extension to be able to handle larger pouches than the ones specified in machine data.
This machine can be connected to a LF-100 (filling machine)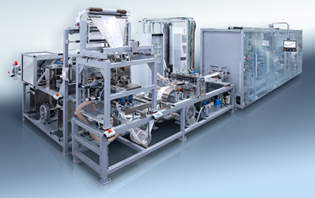 Filler Option
Food Filling Machine LF 100 Option
Stainless steel 1.4401 execution suitable for foodstuffs
Machine divided in dry and wet area, and executed in easy-to-clean stainless steel design. Wet area completely to rinse.
Rotating unit for labeling the pouches on both sides
Separation of rejects before the fi lling line
Pouch separation on two webs
120 mm feeding system with several stations
Drip free fi lling head CIP85
Capper unit with linear drive, monitoring of torque and position,
consistent unscrewing of the caps
Caps sorting unit for 100 caps/min, with cap alignment and linear feeding
Air pressure driven cap distribution
Pouch removal via a chute
CIP and SIP capable filling system,
Storage tank 70l, pressureless with sealed cover as well as dead space free process connectionsand sensors with optimal heating
Rinsing head for CIP-cleaning
Radar controlled level control
Pipe system executed with hygiene-camp-connections DIN11853-3